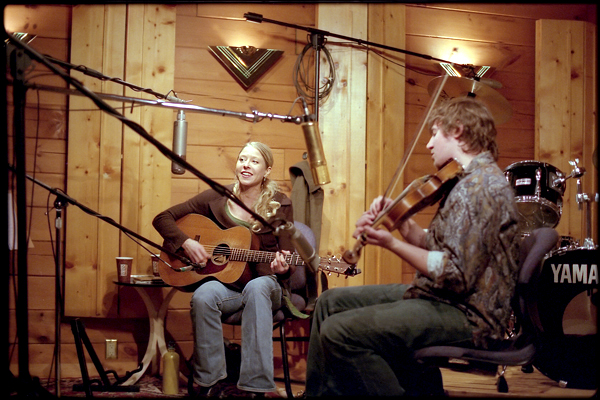 Adrienne Young played at our Creative Caffeine Studio open house with Oliver Craven and it was a wonderful treat for those who were lucky enough to see it! This shot taken with Fuji Natura 1600.

I set them up close to each other in our main drum room (best recording room ever!) and let them play. The idea was to have them playing in the live room so people can listen to the sound of the room as well as through the microphones into the control room, where we listened to throughout the facility.
The mics weren't too close, as I wanted everything to be very natural and pleasing… but Adrienne had an AKG c452 on her guitar and banjo (great discontinued mic, same as C451, extremely different than re-issued C451b) and a vintage Telefunken U47 on her voice. Oliver had a Lawson L47 (excellent U47 copy made by Gene Lawson in Nashville) and a Neumann U87 on his guitar.
Related Posts
All Rights Reserved. Please contact for licensing information.
DO NOT USE WITHOUT PERMISSION.